Amsterdam roller derby team's first ever bout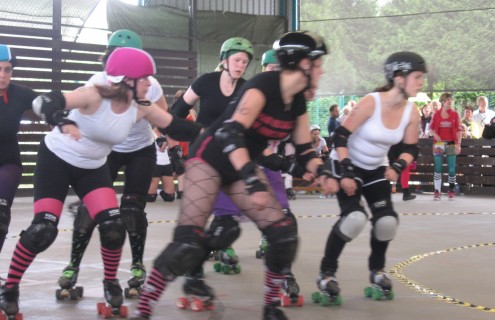 Back in January, we told you how the originally American all-female sport roller derby was taking off in the Netherlands. Now, the Amsterdam Derby Dames, one of the Netherlands' eight teams (Amsterdam, Rotterdam, Utrecht, Eindhoven, Enschede, Arnhem, Groningen and Limburg), will be playing its first ever bout (official competition) in Germany against the Devil Dolls Essen team of the Ruhrpott Roller Girls league.
The moment everyone has been waiting for has finally arrived: the Amsterdam Derby Dames will be playing their first official bout! Your dames are busy forming the first official team to represent the Amsterdam Derby Dames league and training hard. We're so excited, we want to bring everyone along with us. Friends, family, loved ones, supporters, fans. We want you there! And what better way to get everyone there than to organize transportation for everyone? Well, that's exactly what we would like to do.
There is a sign up form if you want to ride the ADD bus, but you absolutely have to fill in the form (form link here) so that they have an idea of how many people might be interested.
(Disclaimer: Orangemaster, aka Nasty Moves #76, is a member of the Amsterdam Derby Dames. Photo of mixed Dutch team scrimmage (unofficial competition) in Antwerp, Belgium)
No Comments »
No comments yet.