Museum turns into Roman Empire IKEA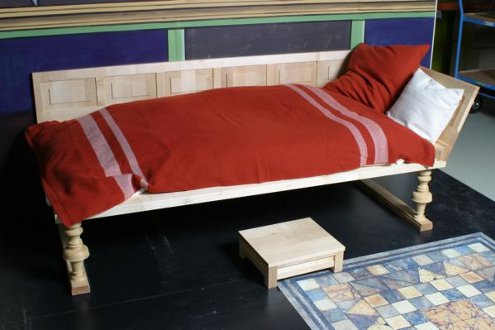 Limburgs Museum in Venlo has an exhibit of Roman Empire household goods with a twist. All the items on display are replicas, and are for sale as part of an exhibit that tries to mimic IKEA down to the smallest detail, including the familiar blue floor map in Latin.
There's the blue and yellow logo, the shop-by-room concept, and a cheap Roman meatball lunch in the café. Best of all are the exhibit's housewares, all of them labelled with Latin names and all available for purchase. You can pick up a "Romulus" toy wooden sword, a "Secundus" wine goblet, or a bust of Emperor Hadrian. Furniture available for online ordering include lounges, tables, and storage cabinets modelled after items found in the ancient Roman city of Herculaneum.
The furniture was built by Drias in Tilburg based on charred remains found in Pompeji and Herculaneum, on frescos from those same cities, and on an illustrated coffin from Simpelveld (Limburg).
The exhibit/store runs until 6 January, 2012. The web shop is in Dutch, but also delivers abroad.
(Photo: Limburgs Museum)
No Comments »
No comments yet.