Satnav on smartphone guided by music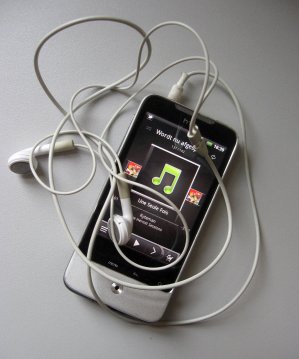 Aspiring boffins at the Eindhoven University of Technology have developed a smartphone app for Android that helps cyclists navigate to their destination by using music. By using the phone's satnav, a cyclist can listen to their favourite tunes the way they always do, but, for example, when they have to turn left, the music will be harder on the left, allowing the cyclist to focus on the road.
The application can be used around the world and can be downloaded as of next week for lucky Android users. iPhone users will have to wait, something that is often the other way round.
I've seen or heard nothing of this app, but I already have some issues with it. Using satnav (GPS function) on a smartphone sucks energy out of a battery like a vampire sucks blood (comes with a warning, too), so I cannot imagine using something like this for a real long bike ride that would require any serious directions. Is this something we really need? Will the app respond fast enough or even properly? Some of the best satnavs for cars have problems with certain countries and small roads. When do people need a map when they're on a bike? That's right, for a long ride. By then your phone will have died and you'll have to sing the rest of the way. And I'm not even going to get into people who are hard of hearing or easily distracted.
If anyone uses this in the near future, please tell us about it.
(Link: www.volkskrant.nl)