Director Sluizer to finish film with River Phoenix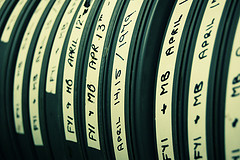 Eighteen years after American actor River Phoenix died of an overdose related heart attack in Hollywood on Halloween night, Dutch film director George Sluizer, 79, has decided to finish shooting the movie 'Dark Blood' that had Phoenix in it at the time.
George Sluizer is known for his film 'Spoorloos' (1988) aka 'The Vanishing' (1992), starring Jeff Bridges and Kiefer Sutherland. He is Dutch even though he was born in Paris (the Dutch wikipedia page is wrong, saying he's French) and had shelved the film so that it wouldn't get lost. Sluizer has now re-edited the material and believes with a few adjustments, he will probably have the film released next year. One of these 'adjustments' includes having brother Joaquin Phoenix do some voice-over work, as he apparently sounds like River.
(Link: www.hollywoodreporter.com, Photo of film cans by tallfoot, some rights reserved)
No Comments »
No comments yet.