Bollards transformed into road-side stools by Jihyun David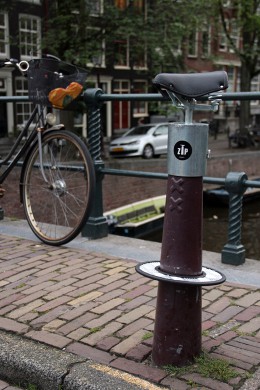 The streets of Amsterdam are lined with steel bollards called Amsterdammertjes, Little Amsterdammers. They are there to deter people from parking on the sidewalk, and the city is thinking of taking them out. We have got other ways to deter people from parking, they say, and they mean they have ways of ticketing people using electronics so that parking becomes something the affluent can use to force the less well-off from the pavement.
The designers of Jihyun David thought of another use of the bollards, and have covered several (for the time being) with bicycle seats, and a metal ring that makes it easier to rest your feet. You can find them at the bridge between Keizersgracht and Leliegracht.
(Link: Popup City. Photo: Jihyun David)