Travelling rubbish museum supports cleaners' plight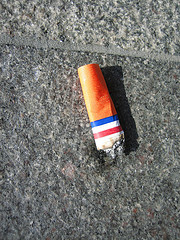 Street combing is cool, but then so is calling rubbish art and exhibiting it at big venues, including the city hall of Heerlen, Limburg. Starting today, visitors there can have a look all kinds of things collected by cleaners who are trying to attract attention to issues such as being paid for sick leave and getting more respect.
This travelling exhibition already seen in The Hague, Groningen and Utrecht tells stories about some 1,000 found objects such as a gold bracelet, a can of cola, a teddy bear and a syringue. The idea is that cleaners reflect our society and are indispensable, while they are not treated fairly despite the relatively well-organised Dutch labour system. Cleaners all over the country have been striking as well to get their point across.
(Link: www.limburger.nl)