Red Cross first aid app downloaded 322,000 times, applied 1,500 times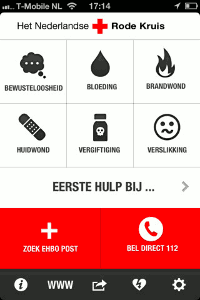 The Dutch Red Cross reports that its smart phone first aid app EHBO Op Zak ('first aid in the pocket') has been downloaded 322,000 times.
A survey among 6,400 users also indicated that the app has been used to help give first aid 1,500 times.
The app is free and is available for the IOS, Android and Mango platforms. It contains instructions on what to do for 54 types of emergencies. The app was launched in the Summer of 2011 in the Netherlands, and a similar app was launched in December 2011 in the UK.
For those without a smart phone there is a PDF with 7 scenarios.
(iPhone screenshot: iTunes / rodekruis.nl)