Smart phone takes bullet, saves man's life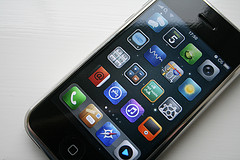 The life of a man from Rotterdam was spared, as the iPhone in his left breast pocket took a wayward bullet, saving his life. Four more bullets were shot at the man, but missed.
The police are still looking for a suspect, and there's 10,000 euro in it for information leading to an arrest.
The guy took his bullet ridden iPhone home. I can imagine him framing it and putting it on the mantle.
(Link: www.ad.nl, Photo by William Hook, some rights reserved)