Dutch shoe design goes around the world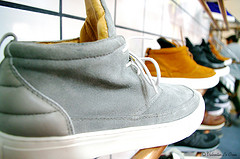 New Dutch footwear brand Filling Pieces, founded by Guillaume Philibert (aka Guillaume Chin), a 22-year-old architectural student of Surinamese-Chinese origin, is taking off internationally in shops around the world, from Portugal to Australia.
Filling Pieces is billed as "filling the gap between haute couture shoes and street culture footwear", selling in 11 different countries. Philibert claims his family and cultural background play an important role in coming up with new designs. They also have women's shoes, and many of the styles are limited editions.
(Link: www.rnw.nl, Photo of Filling Pieces shoes by Valentin Le Cron, some rights reserved)
No Comments »
No comments yet.