Diehard elderly Frisian man finishes 240 km bike race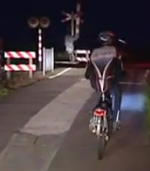 The Fietselfstedentocht (Eleven Cities Cycling Tour), an annual event which was held last 28 May (on Whit Monday), is a 240 km long ride through 11 different cities in Friesland. This year marked the 100th year anniversary of the event, going strong since 1912.
This Frisian video is about Wiebe Idsinga, this year's 'hero' of the race, and the last person to finish the ride.
Following right behind him is a journalist and a cameraman from Frisian television, mesmerised by his endurance and persistence. They ask him at some point if he's tired because he's not sitting up straight but it's because of his two replacement hips! It reminds me of the Belgian film 'Le vélo' (in English, Ghislain Lambert's Bicycle) where Ghislain is always last in the race but gets the most on air time due to his endurance and persistence.
"At the beginning, they tell him he still has 35 km to go. At the first stoppage, he is told that it's past midnight and the race is officially over and he won't have any further support. At the second stoppage, he is told in Dutch that he must stop or he won't get recognition for what he has done so far, and after that he is driven to the end.
After he gets his medal, he says he's going to bike home. You can see one of the officials do a facepalm because Idsinga lives some 15 km away. They offer him a ride home."
(Links: www.aviewfromthecyclepath.com, www.nijsnet.nl)
1 Comment »
Awesome !!! The guy is an inspiration ,if he can do this with 2 hipreplacements. I can overcome the leftovers of my stroke !!! He just does not give up, great !!!

Comment by Loola Realpirate — June 7, 2012 @ 6:26 pm