Cow gives birth to calf on football pitch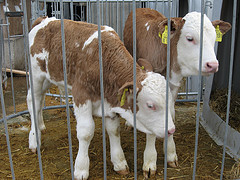 On a football pitch in Leiden, a game of "Where will the cow poop?" took a very unexpected turn when a cow went for the corner flag and popped out a calf instead of a cow patty.
One guy hosting the event looked at another guy and said "Dude, there's a calf coming out of this cow!". The first guy thought it was a joke, but soon figured out it wasn't. The event organisers wanted 'relaxed' cows since children were present at the event. Oh the irony!
The farmer who supplied the cows knew that that particular cow was pregnant, but she was supposed to give birth in about six weeks. Having been transported and subjected to the crowd, the cow was probably stressed and had it out in the corner — in just five minutes. Cow and calf are doing fine.
The person who picked the pitch parcel closest to the birthing corner won 250 euro.
(Link: www.leidschdagblad.nl)