Ban on drinking standing up at terraces to be lifted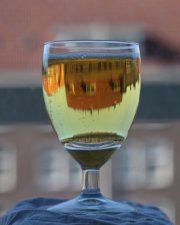 A few years ago, the city of Amsterdam made it illegal to drink alcohol at a terrace standing up. If you were off to a sunny Friday afternoon happy hour at a packed terrace you had to have a place to sit down to have the right to drink anything. Pouring out onto the street because happy hour turned into a party pisses off the neighbours who like their peace and quiet at night.
Back in 2009, action group Ai! Amsterdam (a play on words of iamsterdam which serves up tourist and expat information) claimed that thousands of people showed up at the Noordermarkt to create a 'big standing terrace' to protest what they believed was a patronising city rule.
Not only will this ban be lifted, but cafés may also soon be able to stay open 24 hours. Although Amsterdam is a world city in stature, its rules resemble more those of a big village usually making exceptions for the particularly touristy centre, and often hindering its residents. The rules change very often, for good or bad, and café owners seem to have a hard time keeping up. It's a tough balance to play the world city card and please the residents in such a crowded city.
(Link: nos.nl)