Film director Paul Verhoeven's bridge to Hollywood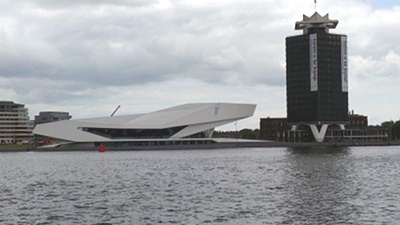 After hearing from two curators of Amsterdam's Eye Film Institute (white building on the left, the other is the delightfully retro former Shell building) that Queen Beatrix really liked Sokurov's The Russian Ark, which is known for having been filmed in one go with no editing, I also find out more about Hollywood heavyweight Paul Verhoeven.
To the Dutch, Paul Verhoeven is a major director who launched the career of fellow Dutchman Rutger Hauer, starring in films such as the 1973 Dutch classic Turkish Delight, while to Hollywood he's the guy that came up with blockbusters such as Robocop, Basic Instinct and Starship Troopers. Another face you may recognise in his films is Hollywood actor Jeroen Krabbé who played General Koskov in the Bond film The Living Daylights.
After 20 years of tinseltown Verhoeven came back to continue working on films in the Netherlands. In May he was present at the premiere screening of his restored 1980 film 'Spetters' ('Hunks' (male and female), but also meaning 'spatter' and even 'ejaculation'). Lucky for some, it's playing a few times with English subtitles in Amsterdam this month.
Spetters is being presented in its 'uncut' version, which means explicit sex scenes were put back in the way the film originally intended, including a blow job scene in the Rotterdam subway. Critics were very harsh on the film at the time, saying that it portrayed youth as amoral anti-gay bashers (one of the main character's is gay) and the feminists had a field day with the blatant sexism and misogyny that actually makes the film amusing today and makes me wonder why the many women in Verhoeven films didn't make it to Hollywood.
Here's the Hollywood voice over trailer, with a wee bit of functional nudity:
And here's the restored version of the trailer in Dutch. This one has explicit sex it in, which doesn't need translation: