Extremely rare moth found in Limburg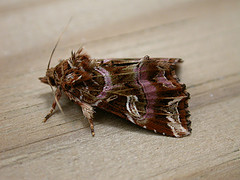 The extremely rare Callopistria juventina, a moth of the Noctuidae family, was spotted in late June in the South of Limburg by a butterfly catcher. In 30 years, it has only been seen twice before in the Netherlands, in 1984 and 2000, and is usually found in this country.
(Link: www.limburger.nl, Photo of Callopistria juventina by dhobern, some rights reserved)
No Comments »
No comments yet.