Robot for dementia sufferers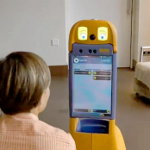 Meet Hector, a robot developed by Dutch company Smart Homes (with the help of a lot of partners across Europe). His task is to help dementia sufferers around the home, and as a result help them be able to live at home longer.
Hector is an in-home caregiver for elderly people who have mild cognitive impairment. It provides reminders for everyday tasks, like taking medications, calling people back and storing grocery lists. For individuals experiencing occasional memory loss, it's no doubt useful to have Hector collect wallet and keys. Hector can even detect falls and respond to verbal commands. He's like a walking, talking smartphone, with a much larger touch screen and smarter "brain."
Hector works by presenting his owner with reminders from time to time. It also monitors the owner's health.
Not unrelated: researchers from the Radboud University in Nijmegen have called for a rethink of end-of-life care due to the ageing population, BBC reports.
(Source image: screenshot from the video. Video: Youtube / Smart Homes.)
No Comments »
No comments yet.