Hop on an electric scooter during the week instead of a taxi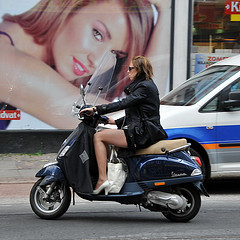 According to our sources, Amsterdam has just launched an electric scooter taxi service called Hopper, although Hopper's press release mentioned as of October 1. "For a fixed rate of EUR 2.50 a ride, as long as the final destination is within city limits. The project is a private-public cooperation with the City of Amsterdam, Dutch Railways (NS) and the Ministry of Infrastructure & Environment and helps solve metropolitan transportation problems."
Hopper apparently took five years of planning, is only available downtown, the Zuidas business district and the RAI exhibition hall area, and runs on weekdays from 8 am to 8 pm. You can order a Hopper by phone or a smartphone but not yet (they don't say iPhone or Android). The goal is to expand to Rotterdam, The Hague and Utrecht, aka the Randstad conurbation.
Although A+ for effort, the part I have to chip away at is when they state that, "scooters in Amsterdam are limited to a top speed of 25 km/h, which means customers (and their drivers, for that matter) can ride without helmets." Yes, the helmet bit is true, but the last thing cyclists in Amsterdam need right now is more scooter traffic on bike paths. This year Amsterdam's parking enforcement officers set the worst possible example by doing dangerous things such as driving over the limit and against cycling traffic. The amount of scooters that go over 25 km/h on bike paths is surely more than half. I'm not saying Hoppers drive too fast, but I'm not convinced they won't try.
I would consider making use of this service, although in the weekend and surely after 8 pm, but that's just me. If anyone out there has actually used or even seen one of these, let us know. It's all nice and green to have electric vehicles on the streets of Amsterdam, but like any other means of transportation they also cause their own set of problems. It would be great to be able to pay so little to get around town regularly, as taxis start at EUR 7,50.
(Link: green.autoblog.com, Photo by Facemepls, some rights reserved)