Baker faints over prestigious 'oliebol' test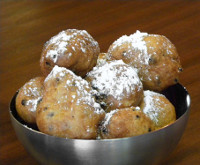 Baker Willy Olink from Maarsen near Utrecht has won this year's Oliebollentest, held as always by newspaper Algemeen Dagblad.
The jury said of Olink's products: "An oliebol that you keep eating. You go back for seconds." Second place was Rotterdam's Richard Visser who had won the year before and who has won eight times in the 20 editions the test has seen.
Joop van de Weerdt, owner of an oliebol stand in Schiedam near Rotterdam, fainted when the test panel came to collect its bag of samples. He was rushed to the hospital, but was back to work the next day. Store manager Claudia van der Kroon told AD: "We had not been tested for a couple of years, so I figure it must have been the nerves. Joop is a man with an enormous passion for his trade."
Oliebollen are deepfried dumplings often containing raisins or currants that are served at fun fairs and during New Year's Eve. The American doughnut is said to stem from the oliebol.
Not everybody was happy with AD's test. Bianca de Caluwé from Oost-Souburg came in last: "'I do not understand this. The judgement is incredibly harsh but meaningless. Four years ago I was the best of Zeeland and I haven't changed my recipe."
Frank van Haperen from Goes, also in Zeeland, even refused to participate. The baker was not happy with the way juries described his balls in the past years: "They call them 'pig feed' or 'leather'", he told the local newspaper PZC. "I am out."
(Photo by Rool Paap, some rights reserved)