Enter the Amsterdam Dungeon ticket giveaway!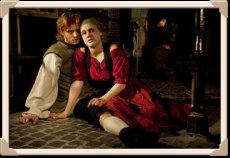 Holland's horrible history comes to life in a dark dungeon of the city centre, complete with actors and rides depicting death, torture, illness and all kinds of creepy things dwelling beneath Amsterdam's pretty canals.
Scary yet educational, experience it for yourself in English or Dutch with our 24oranges ticket giveaway!
How to enter: E-mail 24oranges at submissions (at) 24oranges.nl and we will randomly pick a winner before 31 January 2013. The winning tickets (2) will be sent to you by The Amsterdam Dungeon shortly after and are valid until January 2014.
Tell us why you like 24oranges in a few words and will we post the winning praise on our site as confirmation of the winner. We will also send the winner an e-mail to confirm that they have won.
To find out more about The Amsterdam Dungeon visit http://www.the-dungeons.nl
Feel very free to like us on Facebook as well. The more people like us, the more we can give away free stuff in the future!
(Link and photo: the-dungeons.nl)