Queen's Day to become King's Day in 2014
International headlines have been buzzing since last night about Queen Beatrix of the Netherlands abdicating the throne so that her son, Crown-Prince Willem-Alexander can take over the family business on 30 April, a holiday you may know as Queen's Day (pics).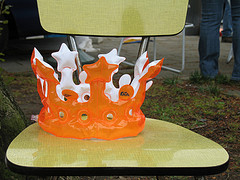 The next item of business is that as of 2014 Queen's Day will be known as King's Day and fall on Willem-Alexander's birthday, 27 April. However, because 27 April in 2014 is a Sunday, the merriment will get underway on 26 April.
I kind of feel sorry for all the drag queens next year as they may have to review their party outfits. I really do hope the drag kings, a highly underrated breed, make a big royal appearance.
To celebrate Wim-Lex's turn to run the Royals, here's a Dunglish number I dedicate to him: