Nonsensical road signs in Noord Brabant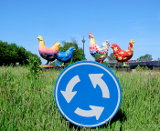 In a country with so many traffic rules and regulations, many of which involve bikes, some set of road signs are so weird you won't find them in theory books on learning how to drive.
Some of the ones in and around Eindhoven are easy to understand even if you don't read Dutch, but for the rest:
No. 12: A bike path where bikes are allowed.
No. 20: A bus lane where bikes are allowed, a dangerous place to cycle.
No. 23: Probably the shortest bike path in the country.
No. 24: Neighbourhood being built, forbidden for construction vehicles.
(Link: www.ed.nl, Photo by Photocapy, some rights reserved)
No Comments »
No comments yet.