Chinese chef caged, beaten and exploited as a slave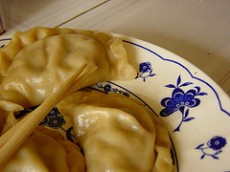 A 52-year-old female Chinese restaurant owner and four other suspects are being prosecuted on human trafficking charges for having exploited a Chinese chef forced to work in restaurants in Amsterdam and Arnhem.
"The victim was intimidated and had to work under miserable conditions. He was not allowed to visit a doctor and had to sleep in a cage in an Amsterdam restaurant under video surveillance." He also worked for long hours for almost no pay, and his bank account was plundered.
Many human trafficking victims in the Netherlands are women brought to work in the sex industry, but a broader type of exploitation is apparently on the rise.
(Link: www.expatica.com, Photo of dumplings by filipe.garcia, some rights reserved)