Napoleon letter praises the Pyramid of Austerlitz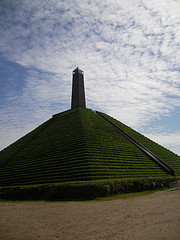 A letter written by Napoleon Bonaparte 200 years ago has been found in an antique shop in the small town of Ermelo, Gelderland. It was written to General Auguste De Marmont, Napoleon's adjutant, praising him for the building of the Pyramid of Austerlitz in Woudenberg, a tribute to Napoleon.
Apparently, it is the only letter in which Napoleon mentions the Dutch monument. The letter will be put up for auction eventually. Last December, another letter written by Napoleon in 1812 fetched 150.000 euro.
(Link: www.omroepgelderland.nl, Photo of Pyramid of Austerlitz by evil nickname, some rights reserved)
No Comments »
No comments yet.