Zone 5300 turns 100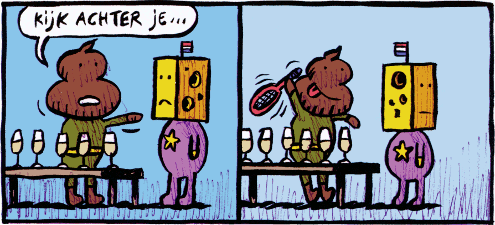 Comics magazine Zone 5300 celebrates its hundredth issue with 40 extra pages, although half of those are taken up by a long article looking back at all those issues.
The Lamelos collective join in the festivities with four birthday stories (illustration), but the rest of the issue is, luckily, business as usual. Here you can see Mr Doody Head looking to turn his friend Mr Cheese Head into a collection of party snacks ("look behind you…").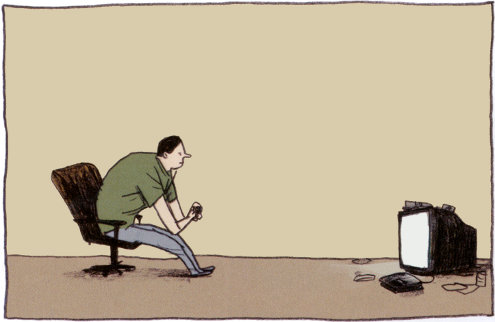 Other longs stories are Cool Jazz by Paolo Vicenzi (about how different generations of musicians see their craft), Alone in the Crowd by Nina Bunjevac (love = sex, sometimes, in the bathroom of run-down bar), Papa Zoglu by Simon Spruyt (a twisted fairy tale), a Ray Murphy story by Fufu Frauenwahl and Bartje (illustration) by Belgian writer and artist Frederik van den Stok. In the last story a lonely young student tries to see if a one night stand can be turned into something more, against all odds. The art looks like it is still a draft but is surprisingly effective, and the story is tight and shows great insight. The scene where the alpha male leaves a city bench and the betas size each other up is brilliant.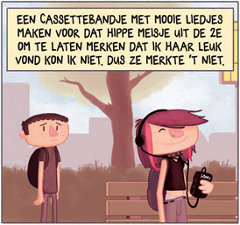 There are also interviews with comics artists Brecht Vandenbroucke (Belgium) and Fufu Frauenwahl (Germany) and singer/songwriter Mark Lotterman (Rotterdam). A short story by Murat Isik tells of the career of a comics collector cut short. Vic's Dip Parade consists of a compilation of ten songs that do not fit into any compilation, including a sing-along in which De Zangeres Zonder Naam takes on American hate monger Anita Bryan.
In a two-pager Kenny Rubenis looks at some of the problems those of us experience who just don't care that much for music. It's got a nice twist at the end, and you can read it all because Rubenis put the comic up on his website (Dutch). ("[You miss out on] making a mix tape for that cool girl from 8th grade to let her know that I like her. She never knew.")
No Comments »
No comments yet.