Marijuana seeds with orange tops for the Queen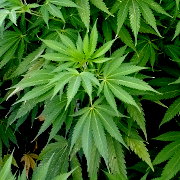 Coffeeshop owner Theo Buissink of Groningen wants to launch a bunch of orange-coloured helium balloons with marijuana seeds in them with the text 'Thank you Majesty', referring to Queen Beatrix who will abdicate the throne on 30 April. When the balloons burst at high altitude, the seeds will spread and marijuana plants will grow all over the country. The plants will have orange tops, as the owner claims to have had those specially cultivated for the occasion. The first plants should start appearing in September 2013. The coffeeshop is appropriately called 'De Vliegende Hollander' ('The Flying Dutchman').
The whole thing makes for a nice animation video in your head using your imagination.
"When Willem-Alexander was 18 we sent him joints for his birthday. Now he will get an empty container that he can fill up with weed in our shop during his visit to Groningen."
Here's the story in Dutch:
(Link: opmerkelijk.nieuws.nl)