Trash bags in Amsterdam get their own Facebook page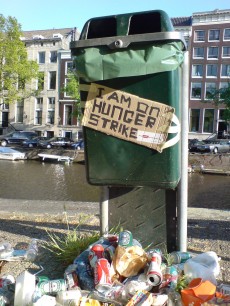 Following the trend of protesting or trying to shed light on issues by setting up a Facebook page, a resident of Amsterdam's De Pijp district who lives on the Van der Helstplein (Van der Helst square) has had enough of the heaps of trash accumulating there and has set up a Facebook page called Van der Helst-belt.
The square is full of restaurants and cafes, which would explain the preponderance of trash, but not why it isn't picked up often enough or on time. The other problem is that people tend to put out their trash every day, which goes against the rules of that area.
Trash is a complicated business in Dutch cities. In Nijmegen for example, unless it has changed recently, residents pay extra money to use city-approved trash bags, which you buy at the regular store, so basically you pay for what you throw out. In places like Amsterdam, you pay a flat fee per year depending on the make-up of your household. In my co-blogger ultraposh neighbourhood it's a Wednesday-Saturday affair, while in my lesser yet decent part of town, I can go across the street anytime and put it in one of the three underground bins.
(Link: www.rtvnh.nl)
No Comments »
No comments yet.