De Skaggerz sing of youthful independence
Here's a party song called Scuba by a band called De Skaggerz.
A son goes to his father / Dad, I did something wrong / I quit school / Have been staring out the window instead / I cleaned out my bank account / Paid for everything myself / Who do you think you are? / Let me go!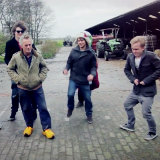 De Skaggerz are, according to their own description, an "up-tempo party reggae band from Rotterdam and beyond. Up-tempo ska-reggae is our genre and because of our frequent excursions to hip hop we are impossible to pigeonhole."
'Skaggers' is Irish slang for pasta, but skagging also means to come off methadone. This is according to the ever so reliable Internet so take those definitions with a grain of salt.
I heard this song last week on De Tweeminutenshow ('the two minute show'), a program on Dutch pop radio station Pinguin Radio where bands can submit their own tracks. Each song gets two minutes on the show and the song that gets voted on the most gets played in full during next week's show. At the time of writing you can still vote for Scuba.
(Video: YouTube / De Skaggerz. Image: crop from the video)
No Comments »
No comments yet.