Dutch law turns solar panel owners into entrepreneurs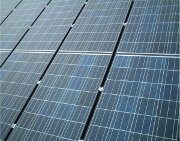 It sounds like a win-win plan for everybody: the government subsidizes the purchase of solar panels for private families who use the panels to generate clean energy and sell any left over electricity to the public utilities.
Strictly speaking, selling electricity is a commercial transaction over which value added tax must be paid. The Court of Justice of the European Union confirmed this in a ruling in an Austrian case earlier this year. Dutch junior minister Frans Weekers confirmed last week that the ruling also applies to the Netherlands, Z24 reports. Owning a solar panel and selling electricity to the public utilities automatically makes it impossible, the minister told parliament, "to deny one's status as an entrepreneur" where value added tax is concerned.
This is problematic for a couple of reasons. Solar panel owners rarely get to see how much they have sold back; the utilities just charge them for the balance. Paying VAT also means you have to start bookkeeping. You can ask for an exemption if you expect to pay less than 1,345 euro a year which also releases you from the obligation of bookkeeping.
According to Vereniging Eigen Huis, minister Weekers considers the judgement undesirable and will ask the European Union for a change in the regulations. In the meantime he will initiate talks with the utilities.
I remember when I started freelancing. I made so little money that the people from the tax office laughed at me when I told them I wanted to register for paying added value tax. The difference between me and solar panel owners was of course that I wanted to be an entrepreneur and saw keeping accounts as part of the cost of entry.
According to Dutchnews earlier this year, "solar panels in the Netherlands produce some 100 million kilowatt hours of power" whereas "Dutch solar panel makers had a turnover of over € 490m in 2010". A quick calculation using the rates of a local supplier shows that solar panel using home owners lowered their electricity bills by 6.5 million euro in 2012, making the solar panel manufacturers the big winners.
(Photo by Mhassan Abdollahi, some rights reserved)
No Comments »
No comments yet.