Dokter Corrie teaches fifth graders about sex on TV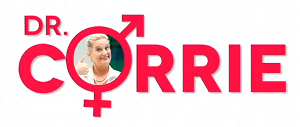 Dr. Corrie is a fictional character who talks on public TV to 10- and 11-year-olds about topics such as how to French kiss, what it's like to be in love, what to do when you've got an unwanted erection, and so on.
She uses a lot of humour and I think this is why a group of 'concerned parents' has started a website called Stop Dokter Corrie!—the show normalizes sexuality and there are people who don't want that. The action committee believes it's not the government's task to raise children. The group claims it is not tied to any religion, so it must be especially painful for them that only Christian media seem to be spreading their message.
All episodes have a famous Dutch person talking about some early experience with love or sex. Dokter Corrie is played by comedian Martine Sandifort.
An example of an episode that the group objects to is the one about kissing. The broadcaster's description says "it is important that you only start with kissing when you are ready. Don't do it just because somebody else wants you to." Children seem to like the show.
(Photo: screenshot of the show from YouTube)