Racist remarks on television fuel discussion over Dutch intolerance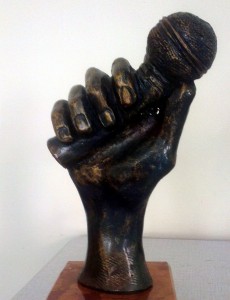 The racist sounding jury of televised talent show Holland's Got Talent has actually managed to outdo itself stupidity-wise after recently failing to recognise one of their most established singer-songwriters.
This time a Chinese immigrant speaking better English than the Dutch jury was poked fun at purely because of his ethnicity. Xiao Wang is asked his name before singing an opera aria by Verdi and once he says his name, a woman on the jury answer's "no matter", reassuring him that his Chinese is not a problem. The crowd sounds shocked, but laughs. A little later, Gordon, the same pop singer we mentioned earlier this week , asks Wang, "what are you going to sing? Number 29 with rice?", obviously referring to the fact that many Chinese run take away restaurants in the Netherlands. After Wang's performance which was surprisingly good, Gordon says "that was the best Chinese I've had in weeks". I stopped watching after that.
This video has decent English subtitles, which will have you facepalming in no time:
2 Comments »
[…] after the racist remarks towards a Chinese student that hit television recently, here's a column by a Canadian of Chinese decent married to a […]

Pingback by 24 oranges » Guy refused internship for being 'dark-coloured' — November 28, 2013 @ 11:51 am

[…] are all white. Six of them are DJs, five of them are Dutch-language singers, two of which are gay (one of them is a bit racist). The rest of these artists either work in the classic music industry or in other types of […]

Pingback by 24 oranges » Top 15 richest Dutch artists are all men — March 27, 2017 @ 8:20 pm