Marleen Sleeuwits' photographs redefine office spaces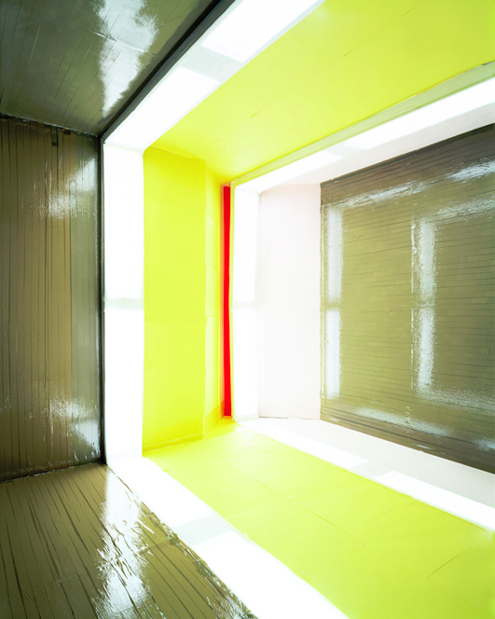 As I was leafing through last year's talent issue of FOAM magazine, I must have been a little too literal minded because when I saw photos by Marleen Sleeuwits titled Interiors, I originally thought she had found interesting looking office spaces that she'd 'merely' photographed.
Then I looked a little closer at Interior #27 (shown here) and realised the brown lines were actually box-sealing tape. It turns out she builds these interiors herself and then photographs them.
Sleeuwits told FOAM Magazine about what initially attracted her to interiors as a photographic subject: "I began work [on a series about airports] after watching a documentary about a businessman who travelled the world for his job. […] One day he woke up in his hotel and had totally forgotten where he was. Looking out of the window didn't give him any clues. He had to check his diary to find out. [Airports and suburban spaces] almost seem designed to disorientate."
And on her website: "They are spaces that lack a connection with the outside world, so it is unclear what their function is, where they are and what time of day they were photographed. […] Here lies a paradox: the spaces that catch my attention are in some sense non-spaces. Lacking a clear function or any reference to the outside world, they are in the end nothing but spaces."
Sleeuwits' agent, the Liefhertje en de Grote Witte Reus gallery in The Hague, will be showing off her work at the Art Rotterdam art fair during the weekend of 6 – 9 February 2014.