Politicos mock entries paint-the-king competition Zwijndrecht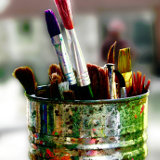 City council members of Zwijndrecht near Rotterdam have taken to mocking the amateurs who entered a municipal contest for painting a state portrait of the new king, Willem-Alexander.
According to AD (which has photos of the actual paintings), SGP's René van den Berg said: "We are going to discuss whether we should even pick one of these paintings as a winner. […] The quality of some of them is atrocious."
The winning portrait will be hung in the council chamber. The winner will receive a prize of 750 euro.
Wim van der Does (D'66): "This is kindergarten level painting. Some of these don't even look like the king." A third, unnamed council member added: "I hope we're not going to hang one of these behind me."
At least some politicians refrained from belittling the voters. Chris Moorman (ABZ) had been against an amateur contest from the start, but took his loss graciously: "Let's be fair and pick a winner with humour." Mayor Dominic Schrijer thought it was great that so many people spent so much of their time and energy in creating portraits and added "the entries vary a lot, from colourful to black and white, and from realistic to naïve. We deliberately chose paintings by real Zwijndrechters."
Other cities such as nearby Sliedrecht have managed to organize paint-the-king competitions without insulting their constituents.
Zwijndrecht doesn't seem to have learned from this episode. On 19 March it will organize another competition in which, if past experiences are anything to go by, mostly amateurs will compete. That's the date the elections for city council will be held.
(Photo by Kara Harms, some rights reserved)