Rare shrew born in Rotterdam zoo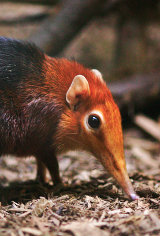 The Blijdorp zoo in Rotterdam announced the birth of a rare mouse-like creature last Thursday, a Black and rufous elephant shrew.
These critters originally come from East Africa and have a conservation status of 'vulnerable'. They are rarely born in captivity, in fact before this birth there was only one other instance known in Europe (a child of the same mother). The zoo calls it fortunate that father Gambit and mother Gloria even hit it off (it would be, considering the father was flown in to breed).
The zoo isn't entirely sure when the young elephant shrew was born, in fact it was first discovered by a visitor. Despite being unsure of its sex, people have already named it Guusje.
(Photo of a shrew held in the US by Joey Makalintal, some rights reserved)