The Hague refuses to swear in Muslim council member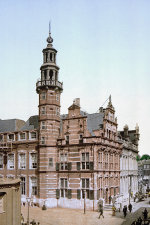 Hasan Kücük of the Islam-Democraten was chided as if he were a child when he wanted to take the oath in order to become a council member of the the city of The Hague. "You know the text is different", Mayor Jozias van Aartsen said last Thursday during the swearing-in ceremony.
Kücük had said "Zo waarlijk helpe mij Allah" ("so help me Allah"). According to Parool council members may choose from only one of two phrases for the swearing in, "so help me God" and "I promise".
Confessional paper Trouw added that the rules actually differ per municipality. In the past, the paper said, civil servants of Amsterdam sometimes used the words "as Allah the merciful is my witness". A spokesperson for the Ministry of the Interior said in defence of practices like that of The Hague that "the name 'God' doesn't have refer to the Christian god."
It turns out the Dutch armed forces are the least bigoted of government institutions, perhaps for reasons of tradition. When Indonesia, a largely Islamic country, was still a part of the Netherlands called Dutch India, its officers were allowed to swear an oath on Allah. A spokesperson for the Ministry of Defence said that "one's religion should not interfere with one's duty, but an oath doesn't do that".
(Photo: public domain photo from Wikimedia Commons)