Lego creation strolls down the beach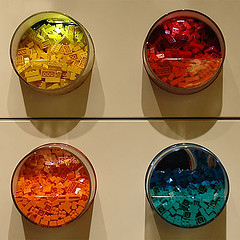 Inspired by Theo Jansen's 'Strandbeest' ('Beach Animal'), Jason Allemann of JK Brickworks has built a creation called 'Steampunk Walking Ship' (see video below), entirely made of Lego components featuring several play features, including the functional cargo crane.
"Power and control is provided by the Lego Power Functions system, which includes the remote control, IR receiver, battery box and two M-size motors. The frame, crankshaft and legs are built using Lego Technic elements."
More Lego stories:
Rietveld Schröder house in Utrecht gets immortalized in Lego
Drug dealer accepts payment in Lego
Lego computer built for Alan Turing's 100th anniversary
(Photo of Lego by tiptoe, some rights reserved)
No Comments »
No comments yet.