"Amsterdam, give Holocaust survivors their money back!", says NIOD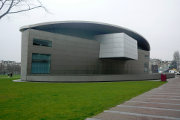 What should a city do when its citizens survive the death camps and arrive home to find all their possessions stolen, even their homes (where now Nazi collaborators live)?
With possible answers ranging from "give them a hero's welcome" to "do everything in your power to restore normality" to "charge them back taxes for property they haven't had the use of", after World War II was over, the city of Amsterdam chose the latter.
Three years ago university student Charlotte van den Berg stumbled upon 342 cases of retroactive taxes for Holocaust victims in Amsterdam's city archives where she worked part-time. Toby Sterling reports:
Van den Berg notified city officials about the documents and received assurances they would be fully investigated. Now and then she checked in, only to learn that nothing had been done. […] In desperation, she turned her findings over to Amsterdam newspaper Het Parool in March 2013.
There is a method that seems to be favoured by Dutch officials who wish to deal with the wrongs their predecessors committed long ago, whether they had assisted Nazis with persecuting Jews or killed civilians in the revolutionary Indonesian war, and that method is to let the passage of time finish what the evil-doers started.
Parool's publication of Van den Berg's findings in 2013 got the ball rolling though and the NIOD Institute for War, Holocaust and Genocide Studies started its own research. NIOD's report is due later this month, but in the meantime details were leaked to the press. The institute will allegedly recommend that the city repay 400,000 euro in fines and 4.5 million euro in back taxes. That's just for one very narrow category of taxes, "fees for long-term leases when the city owns the ground a house is built on".
(Photo by Flickr user jcm718, some rights reserved. Here you see the Van Gogh Museum on Museumplein in Amsterdam. Currently a prime real estate location, Jewish owners of a house in this location had to sell the land because they couldn't afford the costs involved in making the house liveable again and partly because of retroactive taxes, according to Nieuw Israëlitisch Weekblad)
No Comments »
No comments yet.