Arnhem will lay you down flat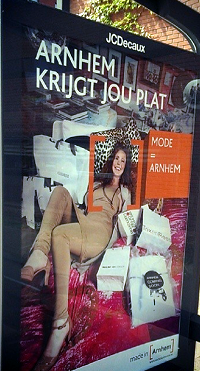 Arnhem has just launched a new city marketing campaign that revolves around its role as a fashion city, entitled 'Arnhem krijgt jou plat', which translates to an amusing risqué joke.
'Getting someone flat', if you were to translate it literally in Dutch implies 'laying someone', as in 'getting them laid', and now you can see where I'm going with this. On the one hand, shopping in Arnhem for fashion will tire you out, sort of 'shop till you drop' thing, but on the other, if Arnhem can 'get you vertical', then their city marketing has done its job well.
The idea is that you can study fashion in Arnhem at ArtEZ, there's the fashion quarter in Klarendal featuring many shops by up and coming designers, there's the Fashion Festival Arnhem in the summer, and more. World famous Dutch designers Viktor & Rolf both met and studied in Arnhem.
(Link: www.adformatie.nl, Photo by Amsterdam copywriter Remco Janssen)
No Comments »
No comments yet.