Donald Duck is getting married! Or is he?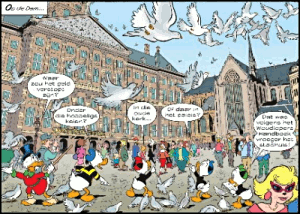 Donald Duck magazine is such a national institution in the Netherlands that when editor Thomas Roep quit after 39 years, it made the national news. The on-again off-again relationship between Donald Duck and Daisy Duck (called 'Katrien', or 'Catherine' in Dutch) will soon be a thing of the past here in the Netherlands, although the story line was bought from Denmark. In fact, the Netherlands and Denmark are the world's biggest producers of Donald Duck stories.
Will the wedding actually take place? Who will Donald's nephews Huey, Dewey and Louie (in Dutch, Kwik, Kwek and Kwak) live with now? And what will Scrooge McDuck (in Dutch, Dagobert) cough up as a wedding present?
Way back when Disney was running Donald's life in the 1950s, Daisy was portrayed as Donald's long-term girlfriend, but after some nightmares Donald got cold feet and ran off to join the French Foreign Legion. Daisy then had other boyfriends, mostly sailors who eventually had to take off to war as well.
The Dutch press and surely the fans are worried that if the pair do tie the knot, the comic strip will come to an end. The Danes were inspired by the 1998 British-American film Sliding Doors, which features two separate story lines. Parodies of Dutch celebs will also be featured in the comic book, as they often do. And there are also spoilers that even I won't read or tell you about.
(Links: www.nrc.nl, en.wikipedia.org)