Apple looking to hire native Dutch speaker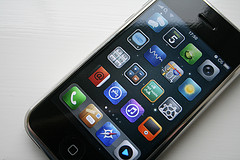 Always wanted to make your mark in the IT world? If you're a native Dutch speaker, you could become the voice of Siri, Apple's speech-powered personal app. For people like me who don't use iPhones and prefer Android phones, many of us heard about Siri from American TV show The Big Bang Theory, as Dr Rajesh Koothrappali takes a bit too much of a liking to the female voice of his phone. At the end of 2013 Apple had made Siri both male and female, but not for reasons of gender equality.
You'll need much more than just a nice Dutch voice for this software engineering job, but it does sound like a nice challenge. I'm surprised they did not specify Dutch or Flemish as European companies usually do, which is a bit sloppy on their part and could go wrong if they do use a different accent and try to pass it off as standard Dutch. A Surinam accent would be cool though, but like I said, I use an Android phone.
(Link: www.bright.nl, Photo by William Hook, some rights reserved)
No Comments »
No comments yet.