Dummies begging in the streets for charity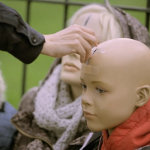 Boing Boing wrote about this remarkable campaign for a charity in Amsterdam:
The Dutch homelessness charity Badt dressed mannequins as homeless people, sawed coin-slots in their foreheads, and seeded them around Amsterdam with signs soliciting donations. It's a clever campaign, but it says something a little unpleasant, in that we are apparently more willing to give money to a doll with a slot in its forehead than an actual homeless person.
The campaign was created by JWT, the ad agency that is housed in the Hirsch & Cie building on Leidseplein in Amsterdam. According to Reclamewereld it took a week to create this campaign and the costs was less than 100 euro. Both the mannequins and the clothes came from donations.
(Illustration: crop of the video)
No Comments »
No comments yet.