Guacamole pulled from shelves for not containing avocados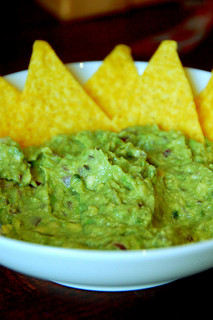 I was in Munich earlier this year and went to a tapas bar with a German friend. He ordered some guacamole with nacho chips and then said that he really liked the guacamole he had eaten in the US, but didn't understand why guacamole in Munich looked like mayonnaise with wasabi through it. I tasted it, and it was bitter: it looked very pale and didn't taste like avocados at all. Then I told him about the guacamole dip you could buy at the Albert Heijn supermarket here that had almost the same questionable colour and tasted like weird mayonnaise.
It turns out that AH guacamole dip, which the supermarket chain has said should not be compared to real guacamole (so why do they feature a bowl of guacamole as a picture on the product?), has been pulled from their line of TexMex-style products for containing all of 0.7% avocado powder. More than 7,000 people have voted the dip 'the biggest marketing lie of the year'. The supermarket chain has pulled the product and agreed to find another product to sell to replace it.
(Link: www.deondernemer.nl, Photo of Guacamole by my_amii, some rights reserved)