Henk Krol refuses to pay back subsidies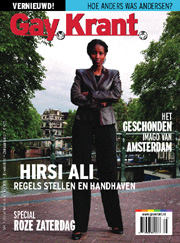 Former parliamentarian Henk Krol refuses to pay back subsidies that he allegedly used to bankroll his sex shop GayTel.
According to AD, the Ministry of Education is knocking at the door of the foundation Vrienden van de Gay Krant (Friends of de Gay Krant, a gay paper) to get their money back. The foundation has demanded that former chairman Krol pay up. The foundation has accused him of bad management. Krol refused to comment.
AD wrote in April this year that Krol used "the subsidies as his private ATM". The subsidies were meant to build an online meeting place for teenage gays called 18min.eu. In August 2008 a supplier of IT services for Krol's companies complained to Krol about unpaid bills, to which Krol responded: "We need new bills that aren't addressed to Gay Krant, Best Publishing Group or GayTel, but to the foundation."
AD is unclear about whether the 206,833 euro they mention is the entire subsidy or just the part that was stolen.
Last October Krol quit his seat in the Dutch parliament (50PLUS, party for the elderly) after allegations emerged that he had failed to pay pension premiums for Gay Krant employees.
In 2009 Krol won the State Award for Gay Emancipation for his "fundamental contribution to the acceptance of gays in the Netherlands".
(Image: Fok.nl)
1 Comment »
[…] foundation Vrienden van de Gay Krant (Friends of de Gay Krant, a gay paper) is being besieged by the Dutch Ministry of Education which wants to get subsidies back that were earmarked for an on-line meeting place for teenage gays […]

Pingback by 24 oranges » Houses of pension fraud Krol seized — October 21, 2014 @ 12:16 am