Bicycle mall in Nijmegen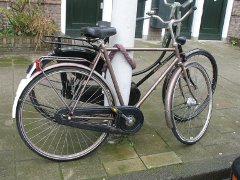 What do you get when you put several bicycle related companies in one spot? Bigger profits, financial news site Z24 argues.
Earlier this year the Fiets Centrum Nijmegen opened in the old Honig factory (soups, sauces, owned by Heinz), located just outside the city centre behind the central railway station. The shopping centre houses a racing bike store, a design bike store, a recumbent bike store, a bicycle themed gift shop, a bicycle rental, and a coffee house.
Hans van Vugt of Elan Ligfietsen (recumbents) told Z24: "I believe our turnover this year will be 15% to 20% higher than last year's, and that is without any additional advertising and despite the fact that the demand for incumbents has stayed the same." He believes the strength of the bicycle mall is that all kinds of related yet non-competing stores can be found in a single place.
Gerard Poels of italmostneverrains.nl attended the opening on 10 May 2014 and liked what he saw. "A feast for the bicycle lover", he called it. He also noted though that the mall could do more to brand itself. "Currently the outside of the building only shows the logos of the individual companies. I believe that is rather unfortunate."
See also: It almost never rains in the Netherlands
No Comments »
No comments yet.