Dom Pérignon teams up with Dutch designer Iris van Herpen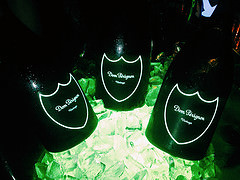 Dom Pérignon has collaborated with Dutch fashion designer Iris van Herpen to produce a limited-edition champagne box and 3D-printed sculpture, as part of its Power of Creation project (not the bottles in the picture, the ones in the video)

Iris van Herpen's gift packs were created specifically for the Dom Pérignon Vintage 2004, drawing inspiration from concepts of metamorphosis and the length of time involved in making Dom Pérignon. Each box is signed by the designer and bears a sprawling, crystal-like green graphic set on a black backdrop.
There's a video by German-born fashion photographer Daniel Sannwald to accompany the product, which I had to sign into to prove my age. The video also features some of Van Herpen's creations and a nice dark green tone that just works for me.
(Link: www.dezeen.com, Photo of Dom Pérignon bottles by cherrylet, some rights reserved)
No Comments »
No comments yet.