Shia LaBeouf runs around Stedelijk Museum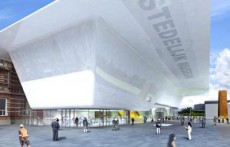 Nobody said you couldn't run a marathon around a building. American actor Shia LaBeouf ran 144 times around Amsterdam's Stedelijk Museum yesterday as part of an art performance called 'Metamodernism'. Last night's international metamodernism symposium at the Stedelijk also featured Birgitta Jónsdóttir, Icelandic politician and activist known for collaborating with Julian Assange on WikiLeaks. By the way, Jónsdóttir was played by Dutch actress Carice van Houten in the 2013 film The Fifth Estate about Assange.
A few weeks ago, LaBeouf began posting cryptic Nike Plus tweets in which his runs spelled out letters of a rapidly-forming word, which ended up being 'metamarathon', the name of the running art performance. LaBeouf is doing this in honour of the museum's Metamodernism day, which its website defines as an "international symposium [that] seeks to draw a cognitive map of our present in order to grasp the changing contours of our everyday lives, towards a paradigmatic shift lived by a generation born in the 1980s and after."
The video features people running along aside LaBeouf while holding a relay baton.
(Link: thedailyedge.thejournal.ie, Photo: designboom.com)
No Comments »
No comments yet.