Con artist leaves Facebook page open; arrest follows swiftly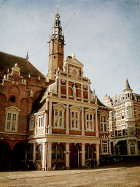 A man and a woman from Haarlem were arrested last Tuesday on suspicion of theft after the man had left his Facebook page open on the victim's computer.
The pair had 'befriended' the victim earlier when the latter was walking his dog, Haarlems Dagblad writes. They rang his door, asked if the woman could use the facilities, and while the man suggested he would log in to Facebook to 'friend' the victim, the woman stole the victim's wallet.
The two then stole a bike from the apartment building to make tracks.
(Photo of Haarlem city hall by J. Kunst, some rights reserved)
No Comments »
No comments yet.