Chair translates body motion into on-screen cursor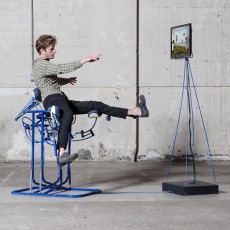 Design Academy Eindhoven graduate Govert Flint has designed a chair that allows users to control the cursor with a range of body movements. He designed this dynamic chair so one could move in all directions, and worked with programmer Sami Sabik to translate the motions of users into on-screen actions.
"I started to think about how we make chairs that are disconnected from their activity. Working in the office is an activity we sit for. From then on I tried to design a chair based on body movements."
Three accelerometers positioned around the chair measure movement in X, Y and Z directions. Collected data is then transferred along wires to a computer, which is programmed to use the information to move a cursor around a computer screen positioned at a user's eye level. One sensor located below the seat calculates the chair position relative to the X and Y planes. The user's shifts forward, backward and side to side move the cursor in corresponding directions on the screen
The dynamic and chair and much more will be on display during the
Dutch Design Week in Eindhoven from 18 to 25 October.
(Link: www.dezeen.com, Photo www.lisaklappe.com)
No Comments »
No comments yet.