Crazy verdict: Dutch Rail may abolish paper tickets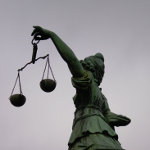 The business court of The Hague has determined that Dutch Rail can abolish paper train tickets even though the law says a traveller has a right to an objective proof of the right to travel.
The court felt that the new electronic travel card system (OV Chipkaart) suffices because there are five places where you can confirm you have the right to travel. Arnoud Engelfriet lists them all:
The display of the electronic gate at the time of checking in.
The display of the vending machine.
A paper print-out at the service desk.
A transaction data listing on the Dutch Rail website.
The display of the train conductor's travel card reader.
Engelfriet and his commenters point out that there are numerous problems with this verdict.
The electronic display only shows that you've checked in for a very short time, especially if somebody checks in a fraction of a second later (this happens a lot during rush hour).
If you are in a rush, you are not going to stand in line at the vending machine or service desk.
The Internet listings are only updated after a significant delay.
Train conductors are "masters at being impossible to find", according to Rikus Spithorst of travellers association 'Voor Beter OV' ('for better public transport'). (Doesn't that make train conductors hobbits?)
Basically this means that you either show up five minutes early for your daily commute to double check you are actually checked in or you pay a tax in the form of fines every time you fail to check in for whatever reason.
What bothers me is that in the case of a conflict between a traveller and Dutch Rail (and only the OV Chipkaart in place) travellers now have to rely completely on the antagonistic party to provide them with the proof that they have in fact travelled legally. Travelling without a valid ticket is a criminal offence, so why would the state make rules that make it practically impossible for a suspect to defend their innocence?
See also: