Florida woman attempts fraud in Dutch and fails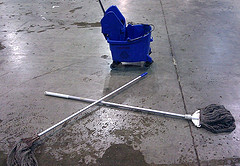 A woman in Florida faked slipping and falling on the floor at chain store Target in order to defraud her insurance company. Margaret Dagniewska, 38, told a Target employee that she injured her neck, back, legs and shin at the store.
First, the surveillance camera shows her sitting down and second – the funny bit – she called her mother in Dutch telling her that she was sitting on the floor. Little did she know that a store employee understood Dutch and made a right fool of Dagniewska.
When the paramedics showed up, they left Dagniewska sitting there to get up on her own. The woman was eventually jailed for fraud. Dagniewska is a known defrauder, and it is not know if she is a card-carrying Dutch or maybe Belgian national.
(Link: www.wptv.com, Photo of mop and bucket by Phil Parker, some rights reserved)