Police monitor people buying tools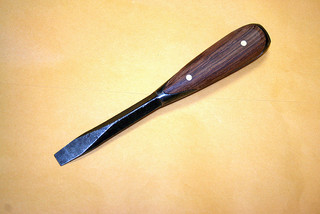 In and around the city of Ede, Gelderland, several DIY chain stores have decided to film anyone buying tools such as big screwdrivers, chisels, crowbars or lump hammers under suspicion of being potential robbers. Once you're on film with your new tools, the cops look at the footage to see if you're a robber that matches their files (ha, pun).
Besides being a potential privacy breach, this is a useless strategy. Webwereld and surely other sources have listed the stores doing the filming so robbers can either take from a toolbox instead of buying new tools or just go to another store. Even better, hop over to Germany or get the missus to do the shopping for you as I bet the cops will only look at men on the film. A Dutch white female pushing a pram should do the trick.
(Link: webwereld.nl, Photo of screwdriver by Noel Hankamer, some rights reserved)
2 Comments »
lets go and buy axe, to tease the police..

Comment by Flower — November 24, 2014 @ 11:16 am

[…] less odd for the police to stop and question people carrying freezer bags, a bit like monitoring people buying screwdrivers and crowbars at the DIY store. Or else it looks like the cops are trying to score pizza and ice […]

Pingback by 24 oranges » Haarlem bans freezer bags used by thieves — January 31, 2015 @ 1:13 pm