Amsterdam Light Festival brightens up the winter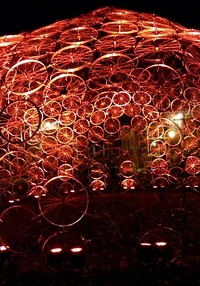 In its third year, the Amsterdam Light Festival runs until 18 January 2015 and makes any winter night on the town that much more fun. Whether you're a tourist or a local, a boat ride will give you a great view of some of the installations. I went on a running and walking tour where installations could be found in gardens (bike wheel dome shown here) and streets.
At 0:37 in the video, you'll see coloured tulips coming out of a canal, the Herengracht, which have to be pumped up by passers-by using bicycle pumps. Other installations had their colours controlled by sound, motion and even Wi-Fi, making it interactive.
Amsterdam light festival 2014/15 from Jack Fisher on Vimeo.
(Link: roomed.nl)